Regular price
Sale price
$23.69 USD
Unit price
per
Sale
Sold out
Free Nationwide Shipping

Shipping Info and Charges


Regardless of the weather conditions, Houseplant Experience will ship orders every day of the year (360 days) from our 'state of the art' packaging- and shipping facilities at both sides of the country.

The packaging materials we use are -of course- environmentally friendly and fully recyclable. We are committed to reducing our environmental footprint and ship our orders 'carbon neutral' as much as possible.

We generally ship your orders within 2-4 business days.We have partnered with Fedex and with USPS and we ship your order throughout the Contiguous States of the US which ensures fast and professional delivery at all times. (average transit time is 3-5 days)

We advise you to purchase a so-called"heat pack"for areas where it gets below 50 °F in Winter. A heat pack protects your plant(s) from freezing during transit. One heat pack protects up to 4 plants in one shipping carton. (a heat pack doesn't add weight to the total order!)
Add a Heat Pack to Your Order Here.

Important:

A Heat Pack must be added to your cart in order to be eligible for refunds or replacements due to cold weather damage.
* Botanical Name: Succulent 


* Common Names: Succulent String of Hearts
* Description: 
The Succulent String of Hearts brings a touch of elegance and charm to any space with its delicate heart-shaped leaves trailing down from its stems. This variant of the succulent plant family is incredibly low-maintenance and perfect for those who desire a touch of greenery but don't have time for daily upkeep. The String of Hearts' natural tendency to trail makes it an excellent addition to hanging baskets or shelves where it can cascade beautifully, adding character and style to your indoor oasis effortlessly. Whether you are new to houseplants or seasoned gardeners, the Succulent String of Hearts will bring life, beauty, and effortless sophistication into your home decor scheme without breaking neither bank nor sweat!
The Succulent String of Hearts is a minimal maintenance plant that requires minimal watering and care.
This plant is known for its air purifying qualities, making it an excellent choice for improving the air quality in your home or office.
With its delicate heart-shaped leaves, the Succulent String of Hearts adds a touch of natural beauty and elegance to any decor scheme.
Care Tips for this Plant

Please see our "Plant Care" Section in the Top Menu Bar.
View full details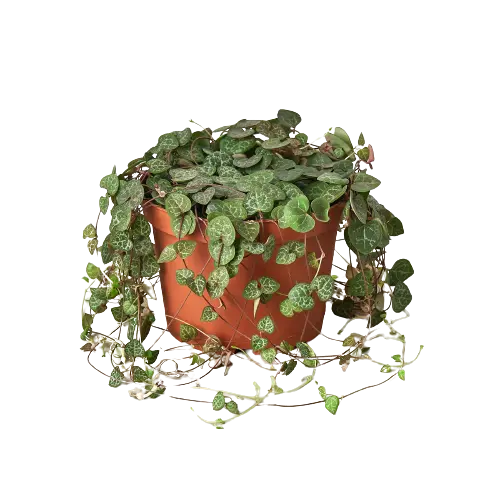 Every Plant comes with:
Free, Fast and Accurate Shipping:

Regardless of the weather conditions, HousePlantExperience.com will ship orders every day of the year and fully eco-responsibly from our 'state of the art' packaging- and shipping facilities on both sides of the country.

30 Day Guarantee on all Live Plants:

If your plant ever arrives in bad condition as a result of a rough shipping journey, send us a detailed photo to our email-address at: support@houseplantexperience.com and we are always happy to issue a replacement or a refund.
Have a question about this- or any Plant? Just drop us a line.