Regular price
Sale price
$19.69 USD
Unit price
per
Sale
Sold out
Free Nationwide Shipping

Shipping Info and Charges


Regardless of the weather conditions, Houseplant Experience will ship orders every day of the year (360 days) from our 'state of the art' packaging- and shipping facilities at both sides of the country.

The packaging materials we use are -of course- environmentally friendly and fully recyclable. We are committed to reducing our environmental footprint and ship our orders 'carbon neutral' as much as possible.

We generally ship your orders within 2-4 business days.We have partnered with Fedex and with USPS and we ship your order throughout the Contiguous States of the US which ensures fast and professional delivery at all times. (average transit time is 3-5 days)

We advise you to purchase a so-called"heat pack"for areas where it gets below 50 °F in Winter. A heat pack protects your plant(s) from freezing during transit. One heat pack protects up to 4 plants in one shipping carton. (a heat pack doesn't add weight to the total order!)
Add a Heat Pack to Your Order Here.

Important:

A Heat Pack must be added to your cart in order to be eligible for refunds or replacements due to cold weather damage.
Bring the beauty of Brazil into your home with Philodendron Brasil - a vibrant and versatile houseplant that will fill any room with lush greenery.
Introducing the Philodendron Brasil, a unique houseplant that will add color and life to any room in your home. A member of the popular Philodendron family, this particular species - also known as Cordatum Brasil - features vibrant green leaves with striking yellow stripes running through them. Not only is it visually stunning, but it's also very easy to care for and can thrive in low-light environments. Its scientific name, Philodendron cordatum, nods towards its heart-shaped leaves which symbolize love and affection. Bring some warmth into your space with this beloved plant today!
Philodendron Brasil is a lowmaintenance houseplant that adds a touch of greenery to your indoor space
Its heartshaped leaves with bright yellow stripes make it an eyecatching addition to any room decor
This plant purifies the air by removing toxins, making it ideal for improving indoor air quality
Philodendron Brasil is easy to propagate, allowing you to share its beauty with friends and family while expanding your collection at home
Botanical Name: Philodendron cordatum
Common Names: Cordatum Brasil
Description: This common epyphytic houseplant is native to coastal Brazil and grows in a vine-like or climbing fashion. It wields heart-shaped leaves and is a great addition to any office or household as it is very easy to care for, requiring minimal waterings and only needing low to medium indirect sunlight. This particular, "Brasil" variety, will have segment on each leaf separating its yellow and green color.
Care:
Light: Although Philodendron houseplants can tolerate low light they will grow faster in bright, indirect light or medium light. Avoid direct light on the foliage as this will cause it to burn. They can tolerate low light, however if you notice leggy growth you may need to move it to a brighter location. 
Pet Friendly: No
Water: Philodendrons like soil with good drainage. Allow the top 2-3 inches of soil to dry out between waterings. Careful not to over water since this can cause root rot. Non-climbing species are more drought tolerant than climbing species. 
Humidity: Medium
Temperature: The ideal temperature for a philodendron is between 65 – 78° F during the day, and around 60° F at night.
Difficult Level: Easy
Care Tips for this Plant

Please see our "Plant Care" Section in the Top Menu Bar.
View full details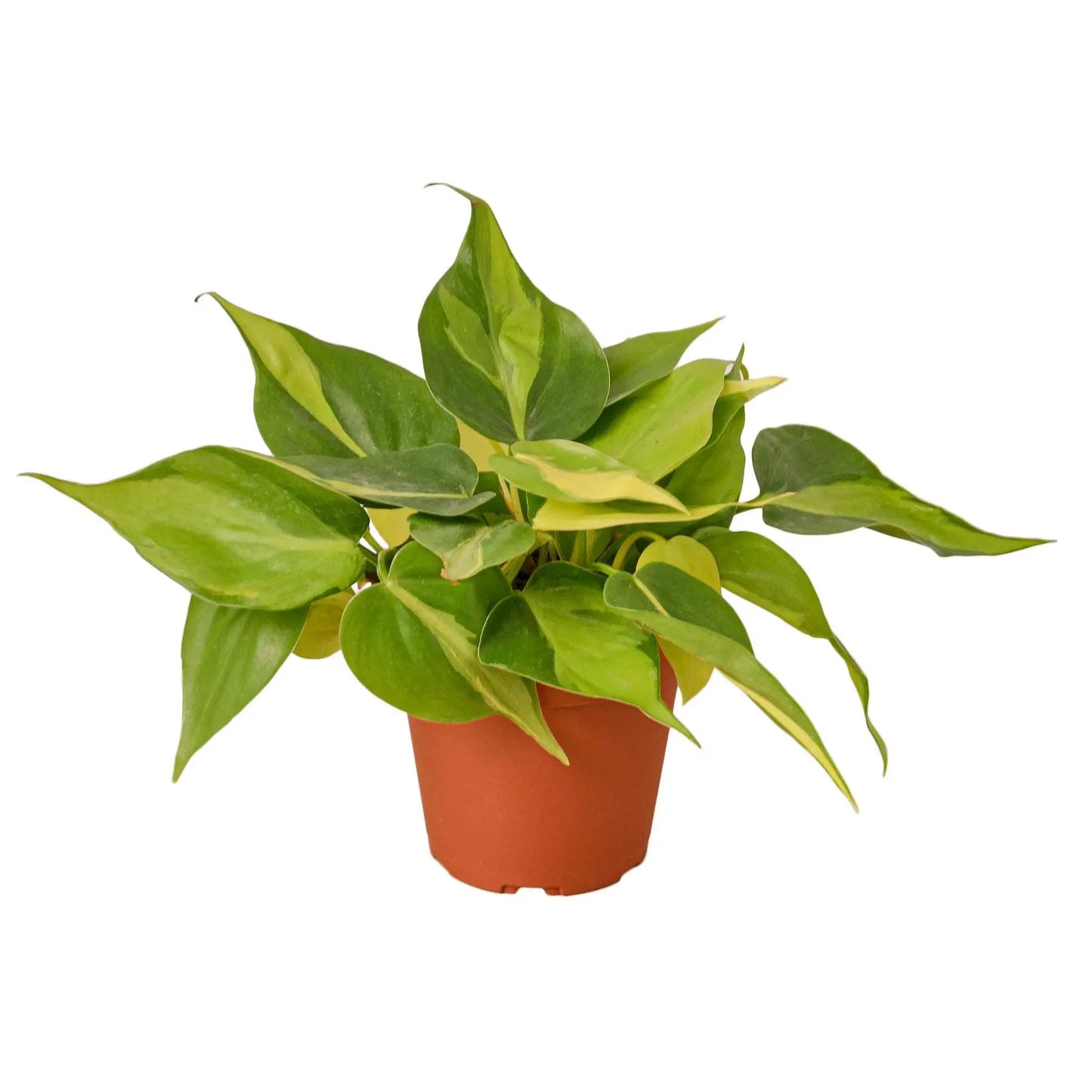 Every Plant comes with:
Free, Fast and Accurate Shipping:

Regardless of the weather conditions, HousePlantExperience.com will ship orders every day of the year and fully eco-responsibly from our 'state of the art' packaging- and shipping facilities on both sides of the country.

30 Day Guarantee on all Live Plants:

If your plant ever arrives in bad condition as a result of a rough shipping journey, send us a detailed photo to our email-address at: support@houseplantexperience.com and we are always happy to issue a replacement or a refund.
Have a question about this- or any Plant? Just drop us a line.