Regular price
$25.99 USD
Sale price
$22.69 USD
Unit price
per
Sale
Sold out
Free Nationwide Shipping

Shipping Info and Charges


Regardless of the weather conditions, Houseplant Experience will ship orders every day of the year (360 days) from our 'state of the art' packaging- and shipping facilities at both sides of the country.

The packaging materials we use are -of course- environmentally friendly and fully recyclable. We are committed to reducing our environmental footprint and ship our orders 'carbon neutral' as much as possible.

We generally ship your orders within 2-4 business days.We have partnered with Fedex and with USPS and we ship your order throughout the Contiguous States of the US which ensures fast and professional delivery at all times. (average transit time is 3-5 days)

We advise you to purchase a so-called"heat pack"for areas where it gets below 50 °F in Winter. A heat pack protects your plant(s) from freezing during transit. One heat pack protects up to 4 plants in one shipping carton. (a heat pack doesn't add weight to the total order!)
Add a Heat Pack to Your Order Here.

Important:

A Heat Pack must be added to your cart in order to be eligible for refunds or replacements due to cold weather damage.
Botanical Name: Ficus elastica
Common Name(s): Rubber Plant, Rubber Tree, Rubber Fig
Description: Native to India and Southeast Asia, the Ficus elastica 'Burgundy' is perfect for those looking for a small indoor tree with stunning dark, shiny leaves. In the wild, it grows up to around 200ft tall, and its roots are used in India to form living bridges. It won't do well in low light spaces, so place in bright indirect light. Water to keep soil moist at all times. Ficus elastica is a source of latex that is toxic to the skin, and poisonous if taken internally, so pet-owners and those allergic to latex should be cautious.
Care:
Light: 

Place the Ficus near a window in a room that gets bright light in the summer with more moderate light in the winter. Turn the plant occasionally so all the growth does not occur on one side.

Pet Friendly: 

No

Water: 

Water weekly during the summer with room temperature water. Add water until it drains from the bottom of the pot. Discard the excess water if it flows into a container. Adjust the watering for your plant. Allow the soil to dry slightly between waterings. If the leaves turn yellow and begin to drop, you may need to increase or decrease the amount of water. Check the root ball. If the roots are soggy water the plant less often. If they are dry, increase watering. Humidity and light levels affect the amount of water needed.

Humidity: 

High

Temperature: 

Ficus plants will do best in temperatures between 50° to 85° F. If the temperatures exceed this the leaves will loose their turgid appearance. It is best to avoid any quick temperature drops.

Difficult Level: 

Easy
Care Tips for this Plant

Please see our "Plant Care" Section in the Top Menu Bar.
View full details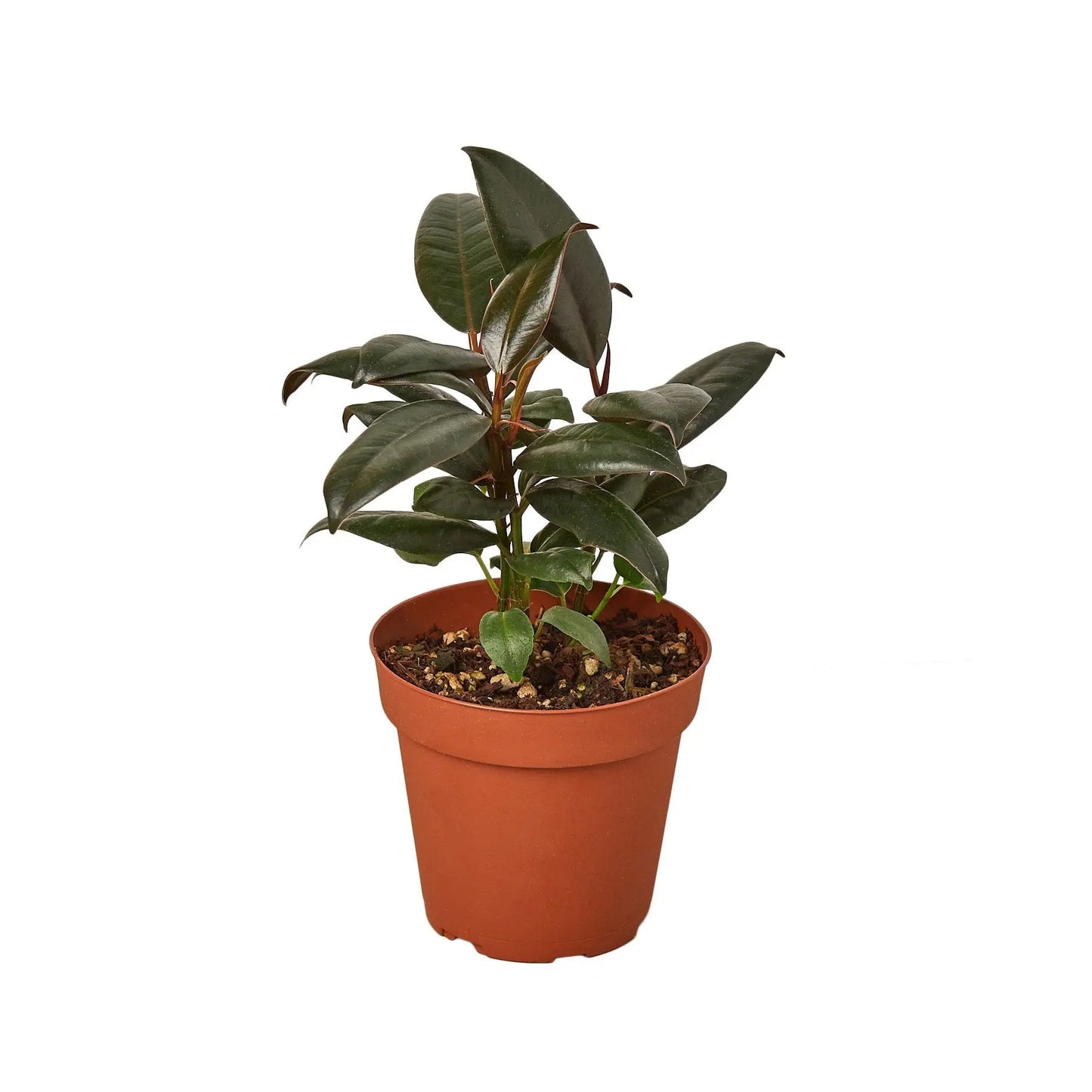 Every Plant comes with:
Free, Fast and Accurate Shipping:

Regardless of the weather conditions, HousePlantExperience.com will ship orders every day of the year and fully eco-responsibly from our 'state of the art' packaging- and shipping facilities on both sides of the country.

30 Day Guarantee on all Live Plants:

If your plant ever arrives in bad condition as a result of a rough shipping journey, send us a detailed photo to our email-address at: support@houseplantexperience.com and we are always happy to issue a replacement or a refund.
Have a question about this- or any Plant? Just drop us a line.